Social and societal value of the project
Суспільна цінність проєкту визначається як популяризація сучасного українського мистецтва, а саме напряму Наноарт, як поєднання сучасного дизайну та нанотехнологій.
Ми прагнемо привернути увагу  до сучасного креативного мистецтва та новітніх технологій в Україні, а також за її межами.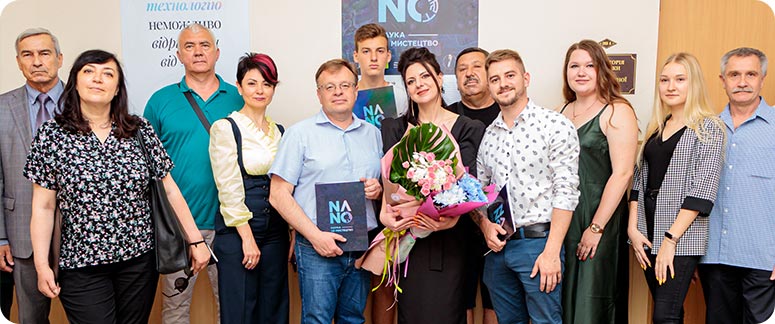 Суспільна та соціальна цінність результатів постає у демонстрація широкій аудиторії того, що наука та мистецтво сьогодні є нероздільними, вони являються складовими творчого процесу, доповнюють один одного та у своїй єдності відкривають нові грані пізнання всесвіту.
Окрім розвитку наукової думки та розширення меж сприйняття культури і мистецтва, необхідно зазначити просвітницьку місію проєкту. Без сумніву, унікальні зображення об'єктів наноарту можуть використовуватися для  популяризації сучасної науки та мистецтва, привертати увагу молоді до цих важливих компонентів розвитку особистості.
Також необхідно відмітити, що креативний простір Наноарту потребує масштабування для обміну досвідами з приводу децентралізації сфери культури між митцями, художниками, дизайнерами, наноінженерами в Україні та поза її межами.
Перспективи розвитку проєкту
У перспективних планах є пошук грантових та інших можливостей для: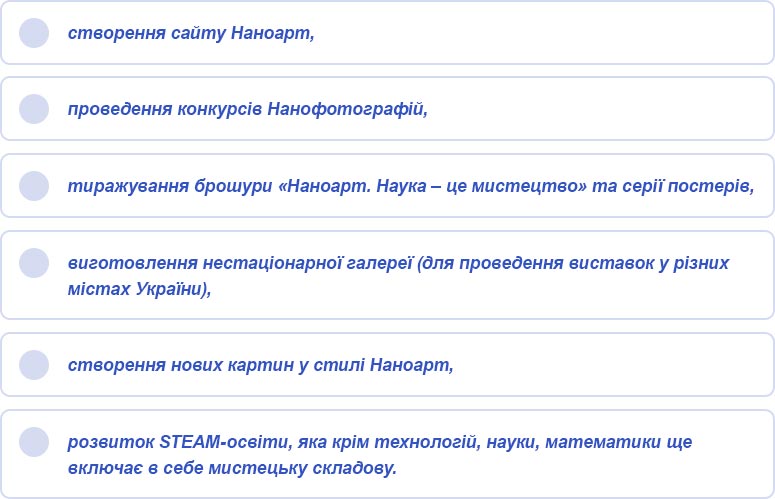 Ці та інші ідеї і події під час реалізації будуть широко представлені у соціальних мережах, місцевих та всеукраїнських ЗМІ, на сайті університету тощо.
Враховуючи специфіку моєї роботи, а саме наукове співробітництво з дослідниками х різних країн та постійну участь у наукових конференціях і симпозіумах, можемо стверджувати, що ідеї Наноарт будуть і надалі широко презентуватися не тільки у межах нашої країни, а й у всьому світі.