The Department of Pedagogy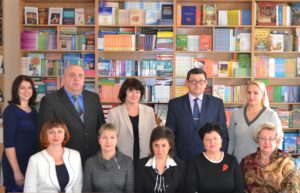 На фото: у першому (верхньому) ряду (зліва направо) – старший лаборант Світлана Олександрівна Сідорцова, канд. пед. наук, доцент Олександр Борисович Голік, завідувач кафедри, доктор пед. наук, професор Лариса Олександрівна Лісіна, канд. пед. наук, доцент Андрій Олександрович Малихін, канд. пед. наук, доцент Анжеліка Сергіївна Лесик.
У другому (нижньому) ряду (зліва направо) – канд. пед. наук, доцент Надія Миколаївна Щербакова, канд. пед. наук, доцент Ольга Іванівна Попова, канд. пед. наук, доцент Лілія Григорівна Ярощук, канд. пед. наук, доцент Олена Вікторівна Голуб, канд. пед. наук, доцент Ірина Анатоліївна Барбашова.