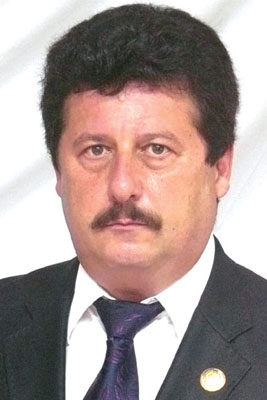 Leonid V. Kotendzy
Associate Professor, Head of the Department of Physical Education of the Faculty of Physical Culture, Sports and Human Health at BSPU
PhD in Physical Education and Sport, President of the Powerlifting Federation of Zaporizhzhia oblast
Заслужений тренер України(1997р)
Заслужений працівник з фізичного виховання та спорту (2009р)
Нагороджений медаллю «За розвиток Запорізького краю»
Почесним орденом «За вагомий особистий розвиток м.Бердянська»
Заслужений тренер України (1999)
Орден "За особистий внесок в розвиток міста Бердянська" (2005)
Грамота ректора БДПУ (2007)
Медаль "За розвиток Запорізького краю" (Нак. № 161-к від 01.09.2009)
Почесна грамота обл. УОН (27.08.2009), Грамота ректора БДПУ (2013),
Подяка МОНУ (Нак. № 47-к від 08.02.2016),
Орден "За заслуги перед Запорізьким краєм" ІІІ ст. (Розп. № 92-н від 05.04.2017)
The sphere of scientific interests: development of educational and training plans for the children and youth sports schools and Ukraine National Powerlifting Team; training masters of sports in powerlifting to compete at different levels.